Research
State analysts push EITC expansion along with gas tax
North Carolina isn't the only state considering a gas tax hike. New Jersey also is looking to boost its transportation funding by a billion dollars.
However, gas taxes are generally regressive – low-income households pay a greater share of their income toward the tax than others. So how can we raise transportation dollars and protect families with low-to-moderate incomes?
In a recent report the New Jersey Policy Perspective recommends that the New Jersey legislature expand its Earned Income Tax Credit (EITC)—in conjunction with the gas tax increase—in order to protect low-income residents.
"…strengthening the EITC would ensure that nearly all New Jersey households – 80 percent – shoulder an equal share of the tax increase as a proportion of their income. (Non-New Jersey residents would pay more than a quarter of the revenue raised – 27 percent – from any gas tax hike.) Without the EITC restoration, households earning less than $45,000 a year would pay more toward the new tax as a proportion of their income than everyone else."[i]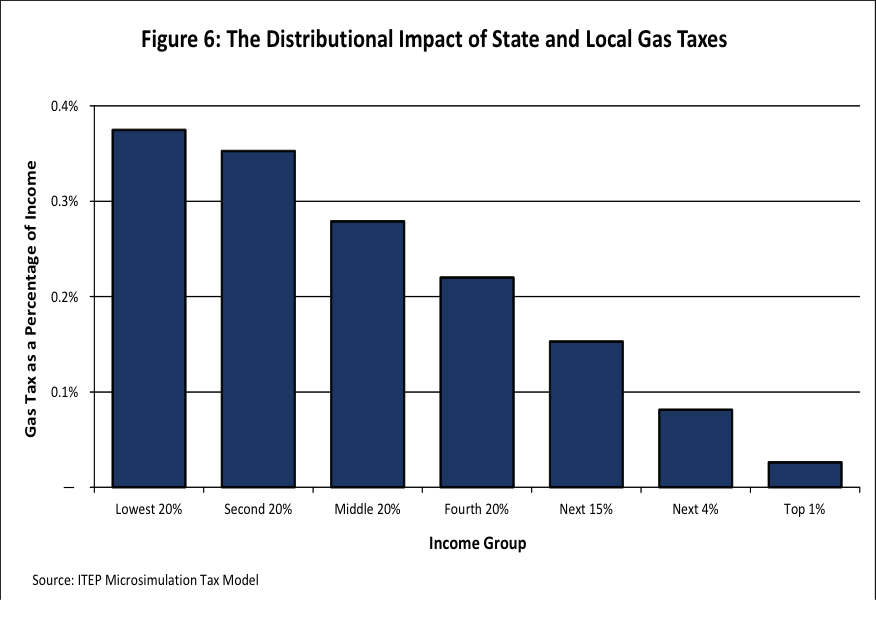 "Building a Better Gas Tax," Institute on Taxation and Economic Policy.
According to NJPP, cutting the state's EITC in 2010 has "taken about $250 million out of the pockets of a half-million New Jersey families."[ii] Expanding the gas tax without also expanding the EITC would make these struggling families even more economically vulnerable. On the other hand, expanding the EITC would help ease their tax burden and give low-income families a chance at economic security.
Similarly, budget analysts at the NC Budget and Tax Center recommend that state lawmakers reinstate our EITC to "offset the fact that the gas tax hits low- and middle-income taxpayers hardest."[iii] North Carolina lawmakers should consider the upcoming change to the gas tax as an opportunity to protect low-income residents while investing in the state infrastructure.